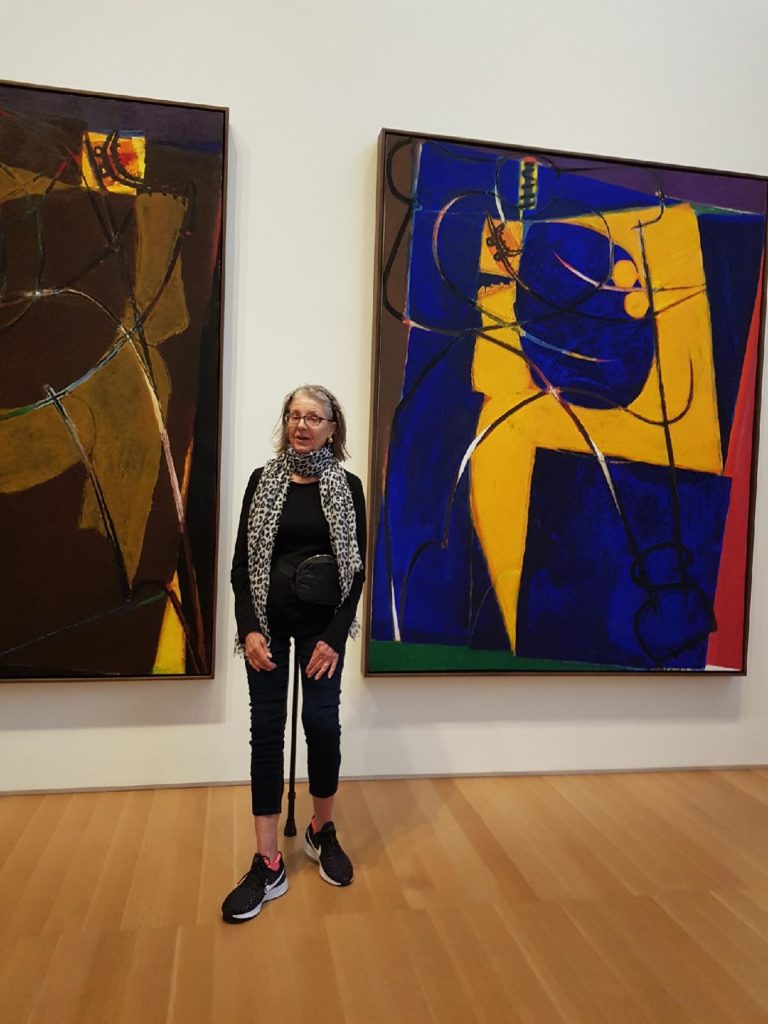 (Palo Alto, California) Jinx Lobdell, the American Frank Lobdells widow, wants to arrange an exhibition for her late husbands paintings in Europe. She says in an interview with Nordic News in California, that Galleries in Spain or one of the Nordic Countries could be of interest. The Anderson Collection at Stanford University is an extraordinary collection of modern and contemporary American paintings and sculpture(anderson.stanford.edu). Stanford University is one of Americas most presigeious academic institutions, says Linx Lobdell.
Picassos Guernica opus decleared the process of artistic creation itself to be a meaningful act and subject. Just as the Norwegian painter Vebjørn Sand who had an exhibition in Norwaya about Hitler- Germanys and Luftwaffes attack on a little town in Spain during general Francos fascist regime. Jinx Lobdell in Sand Hill Road, Palo Alto in California, will make her late husbands paintings more known in Europe. Her hesband was one of the Americans that made Europe free in the end of the Second World War.
In april of 1945,five years after viewing Picasso`s Guernica, Lieutenant Frank Lobdell confronted the harsch realities of war when he came upon a barn in Gardelegen Germany, that was filled with the charred corpses of war prisoners who had been burried alive by german soldiers. On april 13. over 1000 concentration camp prisoners had been forcedd into the enormous, hay -filled barn which then was set on ablize with gasoline and incendiary grenades, says Jinx Lobdell, to Nordic News. She is the widow of the late artist and art teacher at Stanford University close to San Francisco. Today she lives in Sand Hill Road in Palo Alto which is in the heart of Sillicon Valley.
Exhibitions around the world
Exhibiting internationally as early as 1951, Lobdell's work was included in exhibitions at the Petit Palais, Paris, the Third Biennial of São Paulo, the Osaka International Festival, Japan, as well as venues in London, Turin, and Eindhoven, including early solo exhibitions in Paris and Geneva. He showed regularly in solo and group exhibitions in New York, Los Angeles, and San Francisco throughout the 1950s and 1960s, including at the Walker Art Center (1960); The Whitney Museum of American Art (1962); and the Solomon R. Guggenheim Museum, New York (1964). Solo museum exhibitions include San Francisco's M. H. de Young Memorial Museum (1960, 1992); a major retrospective exhibition, "Paintings and Graphics from 1948 to 1965," at the Pasadena Art Museum and Stanford University Art Museum (1966); "Frank Lobdell: Works, 1947-1992," Stanford University Art Museum (1993); California Palace of the Legion of Honor, Fine Arts Museums of San Francisco, «Frank Lobdell: The Art of Making and Meaning» (2003); Portland Art Museum, Oregon, «Frank Lobdell: Making and Meaning» (2004), and others. Recently, the Lobdell Estate has entered an agreement with Findlay Galleries, and the gallery is now the representative of Lobdell's estate. His work will be shown there in an exhibition in the Spring of 2019, according to Jinx Lobdell..
Art Professor at Stanford
Frank Lobdell was born on August 23, 1921 in Kansas City, Missouri, and raised in Minnesota. He attended the St. Paul School of Fine Arts, St. Paul, Minnesota in 1939-40, and painted independently in Minneapolis from 1940-42. He served in the U.S. Army in Europe during World War II (1942–46).[1] Following the war, he moved to Sausalito, CA (1946–49), and from 1947-50 he attended the California School of Fine Arts. Bill In 1950, he left the U.S. for Paris, where he painted and studied at L'Academie de la Grande Chaumiere in 1950-51. After returning to the Bay Area, he taught at CSFA from 1957 to 1964. He was Visiting Artist at Stanford University in 1965, and taught as Professor of Art at Stanford from 1966 until his retirement in 1991, according to Wikipedia.
Awarded in 1960
In 1959 Lobdell was invited to participate in weekly figure drawing sessions with Elmer Bischoff, Richard Diebenkorn, and David Park, and after Park's death, Lobdell became a regular member of the group. Although that circle broke up around 1965, Lobdell resumed his weekly drawing sessions in Palo Alto, where Nathan Oliveira, Keith Boyle, Jim Johnson, and other Stanford instructors joined him.[1] In working from the figure, creating drawings in wash, ink, and occasionally graphite or gouache, Lobdell focused on shapes formed by light and shadow. Aspects of these figures—in a kind of abstracted shorthand—reemerge in the artist's paintings, drawings, and prints. In 1960, Lobdell was awarded the Nealie Sullivan Award by the San Francisco Art Association. Subsequent honors include a Pew Foundation Grant (1986); Medal for Distinguished Achievement in Painting from the American Academy and Institute of Arts and Letters (1988); and Academy Purchase Awards in 1992 and 1994. In 1998 he was elected to the National Academy of Design. Lobdell died of cardiopulmonary arrest on December 14, 2013, in Palo Alto, at age 92, says Jinx Lobdell.
Jinx Lobdell could be reached at JINXLOBDELL@comecast.net Phone 1-415-297-7651