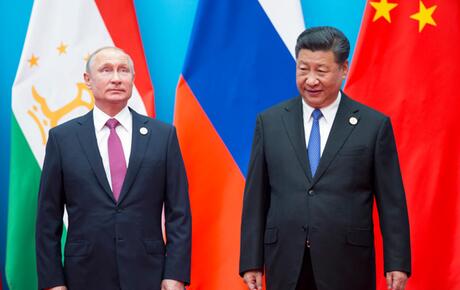 MOSCOW (AP) — Russia's largest war games in recent history have kicked off in the Far East. The Defense Ministry said in a statement Tuesday that the largest military drills since the end of the Cold War will involve about 36,000 tanks and 300,000 troops at sea and on the ground.
President Xi Jinping, right, and Russian President Vladimir Putin pose for a photo at the Shanghai Cooperation Organization (SCO) Summit in Qingdao in eastern China's Shandong Province. Xi is traveling to Vladivostok, in the Russian Far East, on Tuesday Sept. 11, and Wednesday Sept. 12, 2018, for an economic conference where he's expected to meet with Putin, while China joins vast Russian war games for the first time.
China sending troops
China is sending 3,200 troops to take part in the Vostok 2018 exercises later this week. The war games are held a year after Russia staged major drills in the country's west last September, unnerving neighboring former Soviet republics.
NATO and European governments are eyeing the exercises closely, watching to see what they reveal about military cooperation between Russia and China, and their mounting military might.The Trident Juncture NATO drill, of the highest caliber ever held in Norway, is expected to leave a mark on the nation's everyday life. In the course of four months, over a hundred Norwegian municipalities will experience a marked increase in traffic and noise, spurring the authorities into taking unparalleled preparatory action.
In total, the drill will feature 35,000 NATO soldiers from numerous member states gathering in Norway, ranking among some of the most extensive exercises held in the Scandinavian country in years, affecting tens of thousands of ordinary Norwegians, national broadcaster NRK reported.
NATO present in Noway
While the Trident Juncture drill itself, whose stated goal is to bolster cooperation within NATO and with so far still non-aligned partner states, is expected to take place from October 25 to November 7, a large-scale presence of NATO forces will be felt in large swaths of Norway for a period of several months.
In total, over a hundred municipalities across the country will be affected by increased traffic and noise in connection with the extended traffic exercise. The Trøndelag, Møre og Romsdal, Oppland and Hedmark counties will be most affected, but the military will be visibly active in much of the country for a period spanning from August to December.Norway will become the primary host of the Trident Juncture drill, with smaller offshoot exercises held in Finland, Sweden (both currently non-aligned) and not least Iceland. NATO carries out a major exercise of this kind every three years, with the most recent having taken place in Portugal, Spain and Italy in 2015.. writes russian Sputniknews.