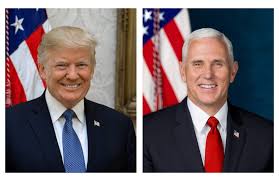 LONDON (AP) — Mixing pageantry and political pugilism, President Donald Trump embarked on his long-delayed state visit to Britain on Monday, belligerently insulting London's mayor but being feted with smiles by the royals at a time of turmoil for both nations in the deep, if recently strained, alliance.
It was a whirlwind of pomp, circumstance and protest for Trump, who had lunch with Queen Elizabeth and tea with Prince Charles before a grand state dinner at Buckingham Palace. Eager to flatter Trump, the British lavished him with spectacle, beginning his visit with a deafening royal gun salute as the president and first lady Melania Trump walked to the palace where a waiting queen greeted them with a smile.
Inspected Guard of Honour
During the palace welcome ceremony, Trump and Prince Charles inspected the Guard of Honor formed by the Grenadier Guards wearing their traditional bearskin hats. Royal gun salutes were fired from nearby Green Park and from the Tower of London as part of the pageantry accompanying an official state visit, one of the highest honors Britain can bestow on a foreign leader.
But the U.S. president arrived at a precarious moment. There is a fresh round of impeachment fervor back home and uncertainty on this side of the Atlantic. British Prime Minister Theresa May has undergone months of political turmoil over Britain's planned exit from the European Union, and French President Emmanuel Macron is expected to use the 75th anniversary of the World War II battle that turned the tide on the Western Front to call for strengthening multinational ties the U.S. president has frayed.
Marks D-Day Landing
The centerpiece of the president's European trip will be two days to mark the 75th anniversary of the June 6, 1944, D-Day landing, likely the last significant commemoration most veterans of the battle will see. The events will begin in Portsmouth, England, where the invasion was launched, and then move across the Channel to France, where Allied forces began to recapture Western Europe from the Nazis.
Top Photo: US President Donald Trump and first lady Melania Trump attend a welcome ceremony with Britain's Queen Elizabeth II in the garden of Buckingham Palace, in London, for Monday June 3, 2019, on the first day of a three day state visit to Britain. (Toby Melville/Pool via AP)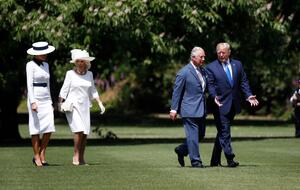 Donald Trump talking to Prince Charles of England(Photo: Ap)