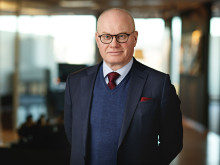 After a very strong last quarter, transaction volumes in the Nordic property market reached approximately EUR 44 billion in 2019, the highest level ever recorded. The volume is driven by a very strong Swedish market and several large corporate deals, according to new figures from property advisor Pangea Property Partners.
"Not only is this a record year, it is also the fifth year in a row with a volume well above EUR 40 billion. This demonstrates that the Nordic property market is one of the most stable and active in Europe, and it stands out in a generally weak year for European property markets" said Mikael Söderlundh, Head of Research and Partner at Pangea Property Partners.
The volume in Sweden increased by an impressive 35 percent to a new all-time high of EUR 20.8 billion in 2019. In Norway, which continues to be very active and the second largest market in the Nordic region, the volume declined by 7 percent to EUR 9.1 billion. In Finland and Denmark, volumes dropped by about 25 percent from unusually high levels in 2018. The total number of transactions in the Nordic property market declined by 5 percent, and the average deal size increased to EUR 44 million.
| | | | | | |
| --- | --- | --- | --- | --- | --- |
| Transaction volumes 2019 | Sweden | Norway | Finland | Denmark | Nordics |
| Transaction volume (EURbn) | 20.8 | 9.1 | 7.0 | 7.1 | 44.0 |
| – Change compared to 2018 | +35% | -7% | -26% | -24% | +1% |
| Number of deals | 360 | 250 | 210 | 175 | 995 |
| – Change compared to 2018 | -6% | -8% | -12% | 11% | -5% |
| Average deal size (EURm) | 58 | 37 | 33 | 41 | 44 |
| Foreign buyers | 30% | 17% | 40% | 66% | 34% |
Based on property transactions above EUR 5m.
The Nordic property market continues to be very attractive for foreign investors, who accounted for 34 percent of the transaction volume in 2019. Over the past three years, foreign investors have grown their Nordic property portfolios by more than EUR 20 billion in total.
Office was the largest sector in 2019, accounting for 29 percent of the volume, followed by residential, accounting for 23 percent. The proportion of public sector properties increased to 18 percent, significantly up from 6 percent last year. Retail and logistics each accounted for 11 percent of the volume.
"There is strong appetite for various types of public sector properties in the current market, driven by a favourable demographic situation in the Nordics and demand for stable cash flows. Centrally located office properties and logistics are also hot segments," said Bård Bjølgerud, CEO and partner at Pangea Property Partners.
The largest property transactions in the Nordic region in 2019 were:
1.SBB's acquisition of Swedish public sector property company Hemfosa (SEK 39.8 billion)1
2.Vonovia's acquisition of Swedish residential company Hembla (SEK 33.5 billion)2
3.Elo's and Varma's merger of shopping centers Jumbo and Flamingo in Finland (EUR 0.6 billion)
4.Lilium's and Castellum's property swap including 26 properties in Linköping and Sundsvall (SEK 5.2 billion)
5.DNB Liv's acquisition of DNB Bank's head office in Oslo from SBB (NOK 4.5 billion)
1 Property value according to Q3 report (ongoing transaction), 2 Property value according to Q3 report
In 2019, Pangea Property Partners has advised on almost 40 transaction and advisory mandates across the Nordics with an underlying property value of about EUR 3 billion. For example, the company advised on the SEK 5.2 billion property swap between Castellum and Lilium in Linköping and Sundsvall, the largest property transaction in Sweden this year except for public takeovers. Pangea also advised Starwood on their first acquisition in Finland when acquiring 73 residential properties, including some 2,200 apartments, from Elo and OP Group. The company also advised on several sizeable transactions in central Stockholm and Oslo for clients such as Humlegården, Profi Fastigheter, Union Investments, Bane NOR, Genesta and Tristan Capital Partners.
"We expect 2020 to be another strong year for the Nordic property market, driven by favorable macroeconomic factors such as low interest rates and weak currencies, plus many transactions triggered by recent corporate deals and portfolio adjustments. In other words, we anticipate another busy year for Pangea Property Partners," added Mr. Bjølgerud.
Pangea Property Partners is an independent Nordic corporate finance and advisory firm focusing on the real estate sector. The company has offices in Stockholm, Oslo and London with more than 30 employees. Since 2009, Pangea Property Partners has advised on more than 400 transactions with an underlying property value above €33 billion. The mandates include property divestments and acquisitions as well as large corporate transactions, capital raisings and debt financing.