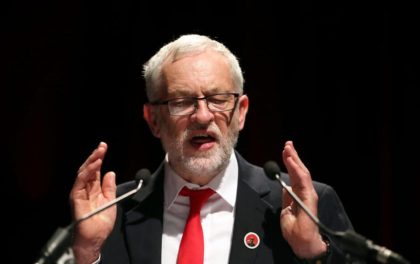 LONDON (AP) — Britain's opposition Labour Party said Tuesday that it will tear up the government's negotiating plan for Brexit and guarantee all European Union citizens in the U.K. the right to stay if it wins the June 8 national election.Labour leader Jeremy Corbyn addresses the STUC conference in Aviemore, Scotland, Monday April 24, 2017. Britain will hold a general election on June 8, writes Associated Press
Prime Minister Theresa May says giving her Conservatives a bigger majority will strengthen Britain's hand in EU divorce talks. But Labour says May has weakened Britain's position by ruling out remaining in the EU single market in goods and services.The party's Brexit spokesman, Keir Starmer, said a Labour government would seek to retain the benefits of single-market membership. And he called it «shameful» that Britain has not guaranteed that the 3 million EU citizens living in the U.K. will be able to stay. Starmer said a Labour government will make that guarantee «on day one.»
Britain and the EU have said that securing the rights of Europeans in Britain — and of 1 million U.K. citizens living elsewhere in the bloc — will be a priority when divorce negotiations begin after the U.K. election.
Polls put Labour a long way behind May's Conservatives as the campaign begins, and the opposition party has been accused of offering a muddled position on Brexit. Most Labour lawmakers — and most Conservatives —argued before last year's referendum that Britain should remain in the EU. But Starmer says his party will respect voters' choice to leave.
Labour has criticized May's commitment to a «hard Brexit» outside the single market and EU customs union, but says it will not seek a second referendum on Britain's final deal with the bloc. Starmer said a Labour government would give Parliament a vote instead, with the power to reject a deal and send Britain back to the negotiating table, writes Associated Press.