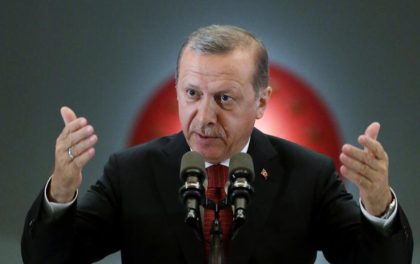 MOSCOW (AP) — It will take time for Russia to mend ties with Turkey after the November downing of a Russian military jet, the spokesman for President Vladimir Putin said Tuesday. Recep Tayyip Erdogan sent a letter of formal apology to Putin on Monday, seven months after Turkey shot down the Russian jet on a mission in Syria, triggering a slew of Russian sanctions that have dealt a blow to the Turkish economy. Putin and Erdogan met in St. Petersburg in Russia today.
Has appologized
Erdogan has apologized to Russia, expressing his «sympathy and deep condolences» to the family of the killed pilot for the downing of a Russian military jet at the Syrian border, Dmitry Peskov spokesman for Russian President Vladimir Putin said on Monday. Putin's spokesman, Dmitry Peskov, called the apology «a very important» step but added that the ties between the two countries would not go back to where they were overnight. «Together we will have to take more than one step to meet each other,» Peskov said. «One shouldn't think that everything will be mended overnight. We will keep up our work in that direction.»
Diplomatic talks
Putin talked to Erdogan by telephone on Wednesday before the metting in Russia, which was their first one-to-one chat since the jet was shot down, Peskov said. Erdogan's spokesman said the Turkish and Russian foreign ministers were expected to meet on the sidelines of  Sea regional cooperation meeting in Sochi this week. Putin denounced the downing of the Russian warplane at the Syrian border on. Nov. 24 as a «treacherous stab in the back.» Russia rejected the Turkish claim that the plane had violated its airspace, and responded by deploying long-range air defense missiles to its base in Syria, warning that they would destroy any target posing a threat to Russian aircraft. The plane's downing came amid a rift between Moscow and Ankara over Syria, where they backed the opposing sides in the conflict. Moscow moved swiftly to ban the sale of package tours to Turkey, which had depended heavily on Russian tourists; banned most of Turkey's food exports; and introduced restrictions against Turkish construction companies, which had won a sizable niche of the Russian market.
Better relations
In contrast to Peskov, Turkish Prime Minister Binali Yildirim said that the ties eteen the two countries are already improved: «We can say that the ice has melted and that the process of normalization has started.» Ibrahim Kalin, Erdogan's spokesman, said Turkey expectedrelations to return to where they were before the plane shooting incident, when the sides did not agree on a number of foreign policy issues — including on Ukraine, Syria and Crimea — but still maintained close economic relations. Along with the formal apology, Moscow said itexpected Ankara to pay compensation to the family of the killed pilot. Asked about the possible compensation, Yildirim said in comments carried by the Anadolu news agency that Turkey was prepared to help the family of the slain pilot, but rejected the term «compensation.» «If the family accepts, we can offer to help, we are prepared to make a gesture,» Kalin said. He added that Turkey will go ahead with the prosecution of the men responsible for the pilot's death, wrote Suzan Fraser from Ankara for Ap some weeks ago.
Still critical
«NATO and Russia have profound and persistent differences,said NATO Secretary-General Jens Stoltenberg, when chaired the council, told reporters some weeks ago. «It's better to talk than not to talk,» said Russian Ambassador Alexander Grushko, who then met with counterparts from NATO's 28 member states in Brussels. But Grushko said that for the Kremlin, «it's absolutely clear that without real steps on NATO's side to downgrade military activity in the area adjacent to the Russian Federation, it will not be possible to engage in any meaningful dialogue on confidence-building measures. Associated Press wrote after the first meeting of the NATO-Russia Council in nearly two years ran over schedule Wednesday but failed to do much to improve relations between Moscow and the U.S.-led alliance, at their lowest ebb since the Cold War. Military analytics in the Nordic countries say to Nordic News that a better relationship between Turkey and Russia is not changing the situation beteen NATO and Russia, writes Nordic News.