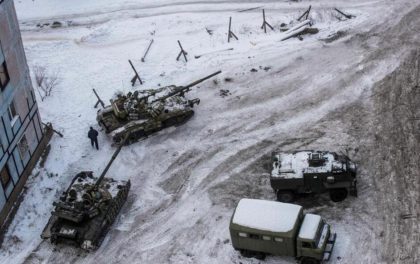 AVDIIVKA, Ukraine (AP) At least 10 people have been killed in eastern Ukraine since Monday and dozens wounded including civilians on both sides of the front line. Ukrainian tanks stand in the yard of an apartment block in Avdiivka, eastern Ukraine, Wednesday, Feb. 1, 2017. Heavy fighting around government-held Avdiivka, just north of the rebel-stronghold city of Donetsk, began over the weekend and persisted into early Wednesday, reports Associated Press.
Fighting escalated
— Fighting between government troops and Russia-backed separatist rebels in eastern Ukraine escalated on Tuesday, reports Associated Press. At least eights people were killed and dozens were injured and briefly trapping more than 200 coal miners underground, Ap reported.A worker carries a metal rod at the front-line Avdiivka coking plant in eastern Ukraine. Fighting between government troops and separatist rebels in eastern Ukraine escalated on Tuesday, Jan. 31, 2017.
Cutting Power to Coalmine
Rebels in Donetsk said an electricity sub-station was damaged in shelling, cutting power to the Zasyadko coal mine. The mine is notorious for its safety standards; 33 people were killed there in 2015 by a methane blast.With elevators not working, the miners had been trapped underground for several hours before local authorities found the backup generators outside the mine to get the elevators working. By late afternoon on Tuesday all 207 men were able to get out.
Russians denied killings
Oleksandr Turchynov, chairman of the Ukrainian Security and Defense Council, said on Tuesday that heavy shelling around Avdiivka killed at least three government troops and injured 24 more. The press office of the Ukrainian government's operation in the east reported an unspecified number of civilian casualties. It also said the rebels turned down the government's offer to cease fire to allow the removal of the dead and wounded. Separatist military spokesman Eduard Basurin, in an interview with Russian state Rossiya 24 television on Tuesday, denied reports that separatist shelling cut power lines and heating stations in the Avdiivka, a government-controlled town on the northern outskirts of the separatist stronghold of Donetsk, saying they had been damaged earlier. The artillery shelling, which appears to be the worst in many months, was concentrated around Avdiivka. The director of the town's giant coking plant said on Monday that preparations were being made to stop production, something rarely done throughout the conflict that has claimed more than 9,600 lives since it began in 2014.
Four people killed
In Donetsk, the rebels' Donetsk News Agency reported four rebel fighters died and seven were injured overnight as well as three civilians. One civilian was killed in shelling in Donetsk on Tuesday morning, Basurin told Russian news agencies.
Provoking the Crisis
Dmitry Peskov, spokesman for Russian President Vladimir Putin, on Tuesday accused the Ukrainian government of provoking the crisis. The Kremlin has «reliable information» that Ukrainian volunteer battalions crossed the front line Monday night and tried to capture rebel territory, Peskov told reporters in Moscow. Salvos of heavy-caliber artillery were heard throughout the night and late morning in Avdiivka, where several thousand people have been without electricity for days. Fighting has cut water supplies for most of the town and it was left without heating in the dead of winter. Temperatures plunged to minus 18 Centigrade (0 Fahrenheit) on Tuesday morning. The Avdiivka coking plant which has switched to natural gas supply after power was cut off on Tuesday, is providing some heating to homes in the town, director Musa Magomedov told The Associated Press, even though its gas reserves are running low. Pavlo Zhebrivsky, head of the administration in charge of the government-controlled parts of the Donetsk region, said on Facebook his office was working on a plan to evacuate 12,000 residents from Avdiivka.
Seeking support
With no signs of an organized evacuation in sight some residents went to a local bus station, hoping to get away. Volodymyr Bassak, 67, was waiting for a bus Tuesday morning to go to the city of Kharkiv some 200 kilometers (125 miles) north after his home had been without heating for several days. «The house was shaking — (shelling) was really intense at about four in the morning,» he said as he brushed tears from his eyes. Kiev-based independent political analyst Vadim Karasyov said an escalation in the east could be beneficial to both the separatists and the Ukrainian government. «Kiev is eager to win support of the new Trump administration, and for this they need to show that separatists and the Kremlin are derailing the peace accords,» he said. «For the Kremlin, it's important to show that it holds war and peace in its hands — if the new U.S. administration wants peace in Ukraine, it needs to offer something in return.» Both sides in the conflict committed to cease fire and pull back heavy weaponry under a 2015 truce which they have violated several times. Vasilyeva reported from Moscow. Yuras Karmanau in Minsk, Belarus, contributed to this report from Associated Press.