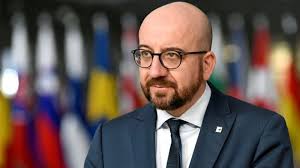 BRUSSELS (AP) — European Union leaders agreed Thursday to revamp the EU's long-term budget and set up a massive recovery fund to tackle the impact of the coronavirus and help rebuild the 27-nation bloc's ravaged economies, but deep differences remain over the best way to achieve those goals.
Even before these new funds are agreed, the EU's institutions and member countries combined have mobilized around 3.3 trillion euros ($3.6 trillion) for overburdened health services, suffering small businesses, embattled airlines or wage support for people unable to work. Northern European countries, like the Netherlands and Germany, generally remain reluctant to share too much debt out of fear of having to foot the bill for others, and debate raged Thursday over what form some of the funding should take, either grants or loans.
Under serious Strain
"This pandemic is putting our societies under serious strain. The well-being of each EU member state depends on the well-being of the whole of the EU. We are all in this together," European Council President Charles Michel told reporters after chairing the leaders' video-conference summit.
But the leaders did agree to task the European Commission with revamping the EU's next seven-year budget — due to enter force on Jan. 1 but still the subject of much disagreement — and devise a massive recovery plan. While no figure was put on that plan, officials believe that 1-1.5 trillion euros ($1.1-1.6 trillion) would be needed.
"There is only one instrument that can deliver this magnitude of task behind the recovery and that is the European budget clearly linked to the recovery fund,» European Commission President Ursula von der Leyen said. «The budget is time tested. Everybody knows it. It is trusted by all member states."
Even after this summit, much work remains to be done and little time to do it. The EU has been split over the budget for more than a year, with major contributors like Germany and the Netherlands reluctant to fill the estimated 75-billion-euro spending gap left by Britain's departure from the EU, writes Associated Press.