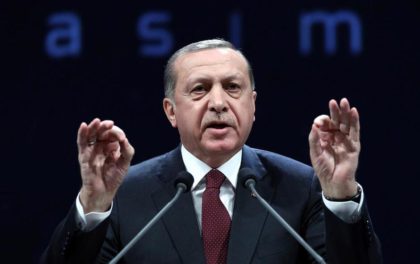 ANKARA, Turkey (AP) — Turkey's president declared Wednesday that an upcoming vote in the European Parliament on whether to freeze membership talks with Turkey is of «no value» to his country. European Union legislators are scheduled to hold a non-binding vote this week on whether Turkey's accession talks should be suspended over the Turkish government's unprecedented crackdown following the failed military coup in July.
Ongoing Invesstigation
Turkey's President addresses police officers in Ankara,Tuesday. Turkey's government on Tuesday dismissed a further 15,000 people from the military, police and the civil service as part of an ongoing investigation into the failed military coup in July. Erdogan said Tuesday that the civil service was still not entirely purged of U.S.-based Muslim cleric Fethullah Gulen's followers and vowed take all measures necessary to eradicate the group, reports Murat Cetinmuhurdar, Presidential Press Service, Pool photo via AP.
Voiced Serious Concern
EU nations have voiced serious concern over the post-coup clampdown, which has resulted in mass purges from government jobs for alleged ties to a U.S.-based cleric blamed for the coup, in the arrests of journalists and pro-Kurdish politicians and the closure of hundreds of media outlets and civil society organizations.Some EU nations have called on the suspension of Turkey's membership talks but the bloc is struggling to reach a common stance that would balance their need for Ankara's continued help to stop hundreds of thousands of refugees heading to Europe with their concerns about rights abuses.
Addressing an annual economy and trade meeting of the Organization for Islamic Cooperation in Istanbul, President Recep Tayyip Erdogan said: «Let me say this in advance… Whatever the result is, in our eyes this vote has no value.»
«This country's struggle for its stability and future won't be interrupted by (European legislators') raising and lowering their hands,» Erdogan said. «This nation has shown the world (during the failed coup attempt) that it is not a fair-weather democrat and that it will risk its life for its rights, its freedoms and its honor.»
Apply Double Standards
The Turkish leader frequently accuses the EU of applying «double standards» and throwing hurdles to block Turkey's EU membership bid. He has also accused several EU countries of backing Kurdish militants and other violent groups operating in Turkey. Erdogan has suggested that Turkey could hold a referendum on the future of Turkey's EU negotiations and that his country could join the Shanghai Cooperation Organization, which includes Russia and China, as an alternative to the EU. On Wednesday, Erdogan said called on countries of the Organization for Islamic Cooperation to stand up to the West where, he said, Muslims were being confronted with «double standards, prejudice, alienation» and were being attacked, according to Associated Press.