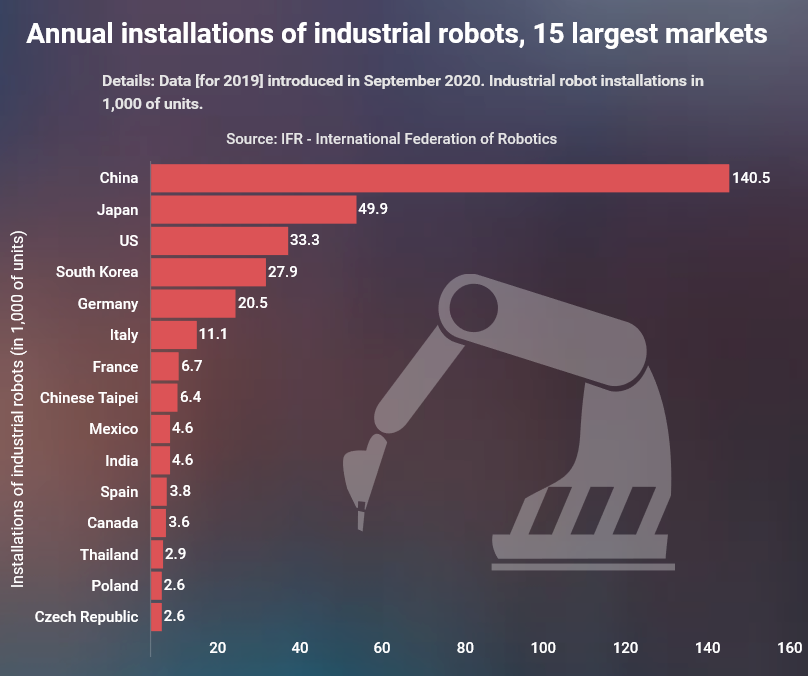 China, Japan and US controls 60% of global installations of industrial robots. Sweden is a large outsider not included in the IFR Statistics, reports Nordic News.
Data presented by Buy Shares indicates that China, Japan, and the United States cumulatively control about 58.71% of the global industrial robot installations. As of September 2020, there were 381,000 units of industrial robots globally. Pandemic to spur industrial robots market
From the data, China accounts for the largest share at 140,500 units, followed by Japan at 49,900 units. The U.S is third with 33,300 installed units. South Korea has the fourth-highest installation at 27,900 units while Germany closes the fifth spot with 20,500 million installations. The Czech Republic has the least industrial robot installation at 2,600.
Several factors are contributing to the growth if the industrial robot market installation. According to the research report:
«The industrial robot market is also expected to grow following the unprecedented situation as a result of the coronavirus pandemic. In the course of the crisis, many factories had to protect their employees by shutting down some production plants. The pandemic creates a potential market for the industry as it is part of preparing for any similar pandemic in the future. «
The research also overviewed the annual installation of industrial robots worldwide between 2009 and 2019. Between the ten years, the installation grew by 535%. In 2009, the figure stood at 60,000 while last year the number was 381,000. By 2010, the number had doubled to 121,000.
Notably, in 2018, the installation stood at 422,000 before dropping by 9.7% to 381,000 in 2019. The drop was the first in seven years.
The full story, statistics and information can be found here: https://buyshares.co.nz/2020/09/29/china-japan-and-us-controls-60-of-global-installations-of-industrial-robots/
Sweden outside this staistics
Sweden is home to some of the top robotics companies, including ABB Robotics, IBC Robotics, Robotdalen, Giraff, Robot System SR, and SRC. When it comes to robot adoption, Sweden is a European heavyweight, like Germany, and it is partly due to its automotive industry led by automakers like Volvo.
According to a 2017 survey by the European Commission, 80 percent of Swedes welcome robots and AI, and Swedish trade unions openly embrace automation. Sweden even has job security councils that help workers to pursue new roles if they are affected by robots.
RobotLab for Productive Robotics at Lund sUniversity in Sweden creates solutions that make robots productive also for smaller players in industry and development, based on scientific advancements in sensing, control, actuation, interaction, mechatronics, and software architectures. The researchers at the lab bridge the gap between service robotics and industrial robotics, by enhanced system integration techniques, by more generic sensor-based motion control, by adapting reasoning and knowledge representation to industrial contexts, and by a novel combination of existing approaches in research and industry.