All Light SSJ100 of Aeroflot replaced with the full version. The tenth Sukhoi Superjet 100 aircraft in the extended configuration was transferred to Aeroflot on June 26, 2014. Thus, Sukhoi Civil Aircraft Company (SCAC) has completed the process of replacing the «Light» configuration aircraft with the «Full» version in the fleet of this airline. SCAC will continue to supply Sukhoi Superjet 100 as part of the signed delivery contract for 30 aircraft of this type. It is expected that 8 more SSJ100 aircraft will be delivered to Aeroflot by the end of 2014. SSJ100 with the tail number RA-89027, transferred to Aeroflot, is named in honor of the hero of the Soviet Union, Honored Pilot of the USSR, participant of World War II-Vasiliy Borisov.The SSJ100 is a 100 seat regional jet designed, developed and built by Sukhoi Civil Aircraft Company (SCAC), in partnership with Alenia Aermacchi, a Finmeccanica Company. The Italian State is the Major shareholder in Finmeccanica, with Libyan Investment Authoritys and Norwegian Bank Investment Management and BlackRock as the second largest owner Group, according to 4-Traders.
Flies to the Nordics
Presently, Aeroflot is the largest operator of Sukhoi Superjet 100. Since the beginning of operation by the airline, ten aircraft of this type have performed more than 20 000 commercial flights with the total duration of more than 30 000 flight hours. Currently, the airline carries out flights on Sukhoi Superjet 100 aircraft to several dozen of directions, to the cities in Russia, Germany, Sweden, Poland, Denmark, Finland, Norway, Croatia, Romania, Latvia, Estonia, Ukraine and Belarus. SSJ100 is delivered to the Airline in 87 seats arrangement: 12 business and 75 economy class,according to Press Office JSC «Sukhoi Civil Aircraft»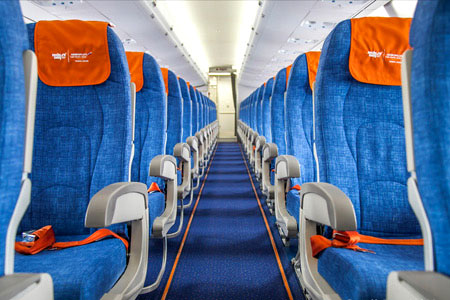 Flights in Russia
Today the Light version aircraft, previously removed from Aeroflot fleet, have been successfully operated by other Russian airlines. They perform both regular and charter flights on routes to the cities in Russia, Ukraine, Uzbekistan, Montenegro, Turkey, Kazakhstan and also the Middle East. About replacement of SSJ100 «Light» to «Full» In 2005, Aeroflot and SCAC signed a contract for delivery of 30 Sukhoi Superjet 100 aircraft in standard specification – single class arrangement for 98 passenger seats. Later, the airline decided to improve the aircraft specifications including the arrangement, passenger cabin equipment, and avionics.
Some Aeroflot-changes
Some changes requested by Aeroflot required further aircraft modifications. In order to avoid delivery delays, the parties agreed that the first 10 SSJ100 would be delivered to Aeroflot in «Light» specification and later replaced by aircraft in
«Full» contract specification. «Full» and «Light» specifications differ in several respects. The «Full» specification aircraft includes an upgraded Flight Management System (FMS) and a weather radar equipped with a wind direction detection function. Further, the «Full» specification features additional video control cameras, separate lighting controls for both economy and business class and an additional working position for a flight attendant at the wall of option galley at the back of the aircraft. Individual gaspers over each passenger seat were also installed, thus improving passenger
comfort. The «Full» aircraft is equipped with three lavatories with diaper boards, and each three-seat-block in the cabin has an additional oxygen mask. Instead of three galleys, the aircraft contains four, one of which is equipped with two ovens.There is additional space to fit a flight baby cot.
Sukhoi Superjet 100
The SSJ100 is a 100 seat regional jet designed, developed and built by Sukhoi Civil Aircraft Company (SCAC), in partnership with Alenia Aermacchi, a Finmeccanica Company. On May 19th 2008 SSJ100 successfully accomplished its first flight. The Sukhoi Superjet 100 cruises at a Maximum Operating Speed of Mach 0.81 and 40,000 feet. It takes off from a 1,731 meters runway in the basic range and 2,052 meters in the long range. The operating range for the basic version is 3,048 km and 4,578 km for the long range version. All models of the Sukhoi Superjet family are equipped with the same engine, two SaM 146 turbofans produced by PowerJet, a joint venture between Snecma and Saturn.Today the SSJ100 is certified by multiple National Aviation Authorities: European EASA, Russian IAC AR and Mexican, Laos and Indonesian
Civil Aviation Authorities. In 2011 the first production SSJ100 entered into service.
Sukhoi Civil Aircraft Company
The Company's shareholders are Sukhoi Holding (a UAC Company) (75% – 1 share) and the Italian Alenia Aermacchi, a Finmeccanica Company, holding 25% + 1 share since April 7, 2009. Sukhoi Civil Aircraft was founded in 2000 to develop new regional aircraft projects and is in charge of the aircraft development and production. The company is also responsible for SSJ100 marketing, sales in Russia, the CIS, China, India, Middle East and Southeast Asia. Headquartered in Moscow. Sukhoi Civil Aircraft has branches seated in Russian cities of Komsomolsk-on-Amur, Ulyanovsk and Zhukovsky. Sukhoi Superjet 100 is the main project of the Company, reports Press Office JSC «Sukhoi Civil Aircraft».Alenia Aeracci is owned by Finmeccanica S.p.A. , the leading industrial group in the high technology sector in Italy and one of the main global players in aerospace, defence and security. It operates in seven sectors: aeronautics, helicopters, space, electronics, defence systems, transportation and construction. The company has offices in over 100 countries. It is partially owned by the Italian government, which holds about 30% of Finmeccanica's shares. The Norwegian Banks Investment Management has investetclose to half a billion Norwegian Kroner in the Company, owning 1,84 Per Cent of Finmedccanica. Government of Italy owns 30,2 per cent of the Company. The second largest owner group is NBIM/BlackRock with 3,67 per cent according to 4-traders. Libyan Investment Authority is the Second largest owner with 2,01 Per Cent, and the Norwegian Banks Investment Management is the fourth largest owner with 1,84 Per Cent.