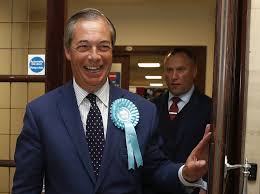 Brussels(AP) A Triumphant Nigel Farage says he founded Brexit Party plans to «change the shape of British politics» after its victory in the European elections.
Farage said Monday the new party will «stun everbody» in the next British general election if the country still hasn't left the European Union. The party Farage started after Britain failed to leave the EU on its planned exit date in March has won 28 of the 73 British EU seats up for grabs and almost a third of the votes in results announced early Monday. More results are expected later in the day.
«We're not just here to leave the European Union but to try and fundamentally change the shape of British politics, bring it into the 21st century and get a Parliament that better reflects the country,» Farage said.
Poland's electoral authorities say the ruling Law and Justice party has won more than 45% of the votes in the European elections, a very strong showing after an aggressive campaign against a united opposition that mobilized the divided nation.
The preliminary results announced Monday by the State Electoral Commission suggest that the right-wing ruling party has a good chance of winning crucial elections to the national parliament in the fall and continuing its policy of social conservatism and euroskepticism. The EU has put Poland under scrutiny for its attack on rule of law.
Manfred Weber is leader of the center-right EPP, which lost 36 seats but remains the largest group in the legislature. He says that «from now on those who want to have a strong European Union have to join forces.»
Meanwhile, with 23 seats expected —the same as Marine Le Pen's National Rally— Macron's Republic on the Move party is a defining voice in the pro-business liberals, reports Associated Press.