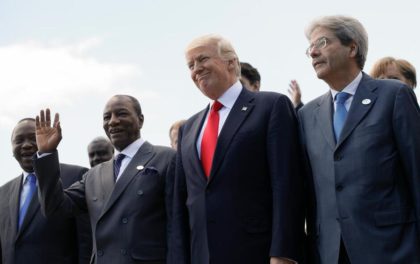 President Donald  Trump will announce Thursday that he will withdraw the United States from participation in the Paris climate accord, weakening global efforts to combat climate change and siding with conservatives who argued that the landmark 2015 agreement was harming the economy, officials briefed on Capitol Hill said. But he will stick to the process laid out in the Paris agreement, which President Barack Obama joined and most of the world has already ratified. That could take four years to complete, meaning a final decision would be up to the American voters in the next presidential election, reports New York Times.
Planned to Pull Out
President Donald Trump twitred last weekend he this week will make a decision that the US will still be included in the climate agreement that was signed in Paris in 2015. Axios published Sunday a case that Trump has already announced some of her confidences, including Scott Scott Proud that he plans to pull the United States out. The American news site, Axios, known to have good sources and reliable reports from the inside of the Trump administration, writes Wednesday that US President Donald Trump draws the United States out of the Paris agreement – referring to two sources of knowledge of the matter. Subsequently, several US media have received the same information from various sources, including the news channels ABC and CBS.
— President Donald Trump says he'll make a final decision on whether the U.S. will stay in the Paris climate agreement next week. Trump's surprise announcement, in the form of a tweet on the final day of his lengthy international trip, comes after Trump declined to commit to staying in a sweeping climate deal, refusing to give into intense international pressure. Reuter is writing last May that  there will be no American signing of the Paris Climate Deal.
From left to right on the picture taken in Taormina by Associated Press; Kenya's President Uhuru Kenyatta, Guinea's President and African Union President Alpha Conde', US President Donald Trump and Italian Prime Minister Paolo Gentiloni pose for a family photo of G7 leaders and Outreach partners at the Hotel San Domenico during a G7 summit in Taormina, Italy, Saturday, May 27, 2017.
Earlier Saturday, the other six members of the G-7, a group of some of the world's wealthiest nations, voted to abide by the Paris climate agreement, according to a person familiar with the talks. The person spoke on condition of anonymity to discuss the matter before the formal announcement.
Trump was cajoled for three days — first in Brussels at meetings of NATO and the European Union, then in Sicily for G-7 — but will leave Italy without making clear where he stands. Under the G-7 agreement, the Trump administration will be given more time to consider whether it will remain committed to the 2015 Paris deal to rein in greenhouse gas emissions.
Backing out of the climate accord had been a central plank of Trump's campaign and aides have been exploring whether they can adjust the framework of the deal even if they don't opt out entirely. Other G-7 nations leaned heavily on Trump to stay in the climate deal, with German Chancellor Angela Merkel saying «we put forward very many arguments.»
Learn and get Smarter
«His views are evolving, he came here to learn and get smarter,» Gary Cohn, national economic council director, said Friday of the president's thinking. Trump, who will return to the White House under a cloud of scandal, started Saturday at the second day of the G-7 summit in Sicily, bringing to an end a nine-day trip that started in Saudi Arabia and Israel before moving on to three European stops.Trump also understands that Germany is bound by the rules of the European Union and could not unilaterally change its trade policies, Cohn said. Trade was a big topic, with Cohn saying the United States' guiding principle will be «we will treat you the way you treat us,» suggesting that retaliatory tariffs could be imposed.Associated Press writer David McHugh contributed to this report from Associated Press.