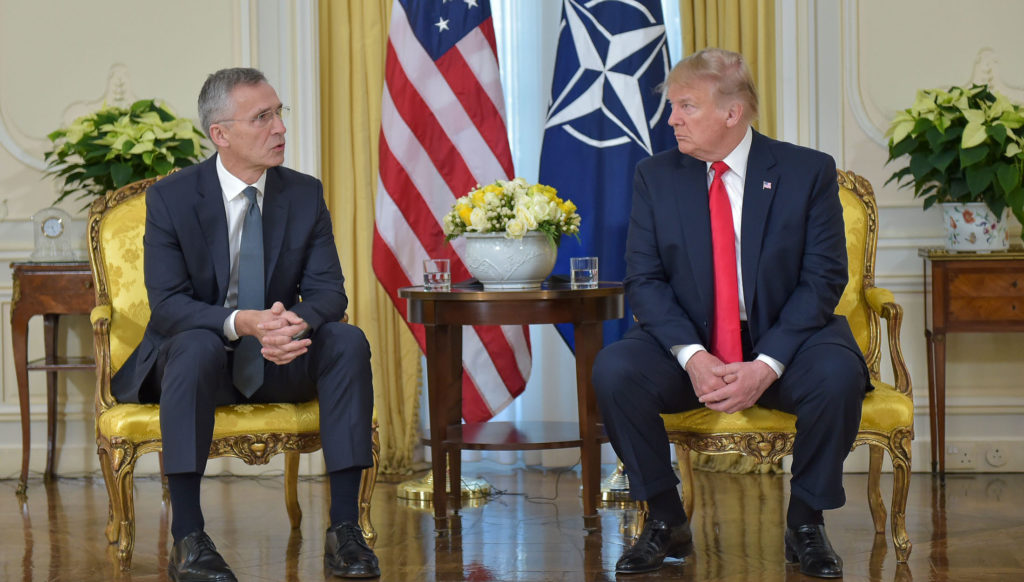 BRUSSELS (AP) — NATO leaders will gather in London on Tuesday as the world's biggest military alliance, marking its 70th birthday, battles with one of the most confounding of adversaries: Itself. As thousands of troops stand ready along Europe's eastern flank to deter Russia — the reason the trans-Atlantic alliance was founded in 1949 — or help keep the peace in places like Afghanistan and Kosovo, the leaders of countries with NATO's largest armies are wildly taking pot shots at each other.
Before the two-day summit, to include receptions at Buckingham Palace and Downing Street plus a working session at a golf resort in outer London, Karen Donfried, president of the German Marshall Fund think tank, said the 29 NATO allies are approaching this meeting "with a sense of foreboding."
Common Purpose
"Few anticipate a gathering that will both unify and stop the growing cracks in cohesion. Alliance leaders carry the responsibility to articulate NATO's common purpose and ongoing relevance. If they do not, Vladimir Putin will be raising a glass in Moscow to the fraught state of the alliance at 70," she said, in reference to Russia's president.
In recent months, U.S. President Donald Trump has declared that peace is nigh in Afghanistan — NATO's longest and most costly operation in terms of lives and cash — only to call off talks with the Taliban. Now, it seems, they are on again. All the while, U.S. troop numbers are declining. Other allies are unsure what to make of it.
Last month, he precipitously pulled troops out of northern Syria. Turkey took that as a green light to launch an invasion that has alarmed its European NATO partners, many already struggling with the political fallout sparked by the arrival of tens of thousands of Syrian refugees via Turkey in 2015.
Speaking with one Voice
From the outside, and quite possibly from the Kremlin, it looks like a great act of self-harm. NATO has no real wars to fight but its power, and Europe's security, lies in the abilities of the allies to deter adversaries like Russia and potential ones such as China. That deterrence depends on a balanced mix of military posturing and shows of political resolve by speaking with one voice.
Since Russia annexed Ukraine's Crimean Peninsula in 2014, NATO has deployed more than 4,000 troops to Estonia, Latvia, Lithuania and Poland to discourage further military adventurism by Putin. The allies also ended their post-Cold War budget cuts and stepped up defense spending, reports >Associated Press.
But in the last years, Russia has developed, produced, tested and deployed a new intermediate range missile, known as the SSC-8. The SSC-8 is mobile and easy to hide. It is capable of carrying nuclear warheads. It reduces warning times to minutes, lowering the threshold for nuclear conflict. And it can reach European capitals.
Russia's actions undermine the INF Treaty, placing it in serious jeopardy.The United States is in full compliance with its obligations under the INF Treaty. There are no new US missiles in Europe, but there are new Russian missiles.
A new Missile System
A treaty that is respected by only one side cannot be effective and will not keep us safe. If a treaty no longer affects the reality on the ground, then it is nothing more than a piece of paper.
NATO Allies first raised their concerns five years ago, under the Obama administration. Now, after many years of categorical denials, Russia admits the existence of this new missile system.
This op-ed by NATO Secretary General Jens Stoltenberg has been published by El Pais and La Repubblica, part of the Leading European Newspaper Alliance (LENA).