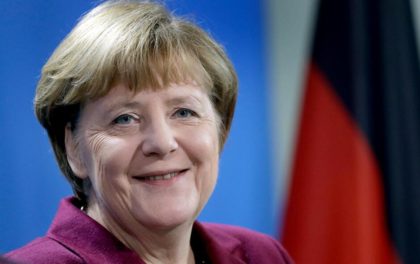 BERLIN (AP) — Angela Merkel, who has steered Germany through several global crises as its first woman leader, says she will seek a fourth term as Germany's chancellor in general elections next year. Speaking after a meeting with high-ranking members of her center-right party, Merkel told reporters Sunday night that «I literally thought about this decision endlessly … but I am ready to run for office again.
«German Chancellor Angela Merkel attends a joint news conference with the Prime Minister of Norway, Erna Solberg, at the chancellery in Berlin. Speculation is growing that German Chancellor Angela Merkel will seek a fourth term in general elections next year. The 62-year-old chancellor is expected to talk about a possible candidacy during a Sunday night Nov. 20, 2016 news conference at the Berlin headquarters of her political party, the Christian Democrats.If the 62-year-old Merkel wins next year and serves the entire four-year term, she would match her one-time mentor Helmut Kohl's post-war record of 16 years in office.— Can Germany, the country that once unleashed Nazism, lead the free world? The idea that the former home of militarism and nationalism could become a beacon for human rights and peaceful international cooperation within one lifetime may seem far-fetched. U.S. President Barack Obama, right(AP-Picture), and German Chancellor Angela Merkel, left, shake hands after a press conference as part of a meeting at the chancellery in Berlin, Germany, Thursday, Nov. 17, 2016. Germany is the last European stop of Obama's final tour abroad as U.S. president.The leaders of Europe's major powers — Britain, France, Italy and Spain — will meet Obama in the German capital Berlin Friday,
Last powerful defender
But with outsider Donald Trump's election as U.S. president and the rising strength of far-right and populist movements in Europe, some have suggested that German Chancellor Angela Merkel is left as the last powerful defender of liberal values in the West. Since taking office in 2005, Merkel has been a fixture of the international summit circuit, often providing the only dash of color in row upon row of grey suits. She has outlasted most of her contemporaries — save for Russian President Vladimir Putin — and won plaudits for successfully steering her country through the turmoil of the global financial crisis.
Merkel raised eybrows
Along the way, the trained physicist has deftly maintained relations with allies as they gained new leaders, including prime ministers and presidents whose positions were very different from her own. «I could not have asked for a steadier and more reliable partner on the world stage,» President Barack Obama said Thursday after meeting with Merkel in Berlin during his final foreign tour. He described the German chancellor as «a great friend and ally» who looks out for her own country's interests while recognizing that this also requires working closely with others to solve common problems. Merkel raised eyebrows last week when she departed from the usual diplomatic script after Trump's election by suggesting that respect for liberal values was a precondition for Berlin's continued good relations with Washington. Many commentators saw her remarks as a sign that the chancellor was prepared to thrust Germany into the forefront of international politics and challenge the new U.S. administration if necessary, reports Nordic News.