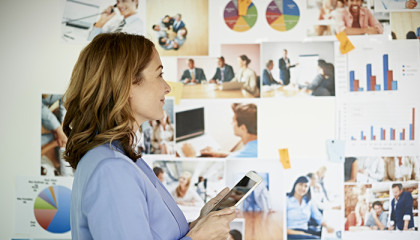 In this series, professionals predict the ideas and trends that will shape 2016. Read the posts here, then write your own in her aricle » Big Ideas». You might know the new kings of content. Because you're one of them. Here are som of the «Big Ideas» for the year 2016, writes Katya Andresen , CEO at Cricket Media/ePals:
One of the most spectacular technology-driven shifts in last few years has been what Greg Verdino describes as mass communication giving way to masses of communicators. With the decline of network television comes digital engagement with our own networks — and what they have to say. In other words, we're no longer just content consumers or content curators. We're content creators. And that phenomenon will reach critical mass in 2016, fundamentally changing my fields of media and education.
New Interneet Trends
In her most recent annual dissection of internet trends, Mary Meeker cited some compelling statistics around the rise of so-called «user-generated content,» from Pinterest to Twitch. She also highlighted the level of technology adoption that is helping to drive this boom, including the fact that three-quarters of the planet is using mobile phones and 87% of Millennials say their smartphones never leave their side. At everyone's fingertips is the ability to become a published author, film-maker or photographer. I work for an education media company (Cricket Media), and so I see firsthand how profoundly these seismic shifts in user-generated content can — and are — disrupting education and media.
King of Content
Here are three things we'll see in 2016 via the new kings of content. The new storytellers: The content we experience in 2016 will be from more diverse sources than ever. We are all storytellers and story makers, with millions of microplatforms for personal expression.
I work with children's media, and for us, this means we can't just tell stories. We've dubbed 2016 The Year of the Storyteller. We have to inspire storytelling and storymaking. For example, we don't just put poems in a digital magazine. We also host a poetry slam community. That's because digital natives expect to be creators. We celebrate that and know it's on us to find safe ways to make that happen.
2. The new media: As we all become digital storytellers, the stories that result will be more plentiful and diverse than ever, from breaking news to political campaigns to cat videos. Media and marketing companies are in the throes of grappling with this new reality now. Every player needs to figure out how they both compete with and enable the billions of stories that will go into circulation in the coming months.
According to Domo, every minute of every day, we're sending nearly 350,000 tweets. Facebook users like 4.1 million pieces of content, and Instagram users like 1.7 million of their friends' photos. YouTube users upload 300 hours of new video content. (And those numbers, published a few months ago, are probably already out of date.)
At my company, we know that means we must make user-generated content part of our products. We don't just tell wizarding stories. We created a "crowdsorcery" story making project — with children inventing the main characters and story — published in our print and digital magazines. And we enabled kids from Beijing to West Bengal to capture local folklife to create this cultural world tour. It's a user-generated social studies textbook.
3. The education challenge: One prediction I made last year has happened — and will only accelerate in 2016. That's the phenomenon of kids using technology in an effective learning cycle. First they try something on their own, learning through solo activities that include trial and error, practicing and failure. Once a kid starts to achieve mastery, they want to show and teach others what they have learned. When this is done within a community, this starts a feedback loop where learning, mastery, sharing and collective growth happen.
Can Learn a Lot
We can learn a lot about how kids communicate with each other to spark innovation in the digital educational tools that we adults develop. But educational innovation is not keeping pace. Too much of how we teach kids with technology is old school. Historically, educational technologies that were built for kids were based off traditional media — textbooks, online lectures, learning management systems. But this is changing rapidly. As digital natives are creating and designing products for the next generation of digital natives, the best developers are placing a high priority on user research, and seriously listening to and watching kids in order to create some truly innovative products that extend beyond the classroom walls. The lesson we see every day at my company in our Global Community of classrooms is that the best teaching happens when kids apply and share what they learned. My prediction is 2016 will be the year of the new kings of content — people like us. My hope is that this results in a greater good. The more our masses of communicators of all ages use their platforms not only for expression but also for listening and constructively engaging — for learning, not just teaching — the better off we all will be, writes Katya Andresen in her articles presented ba Google Pulse.