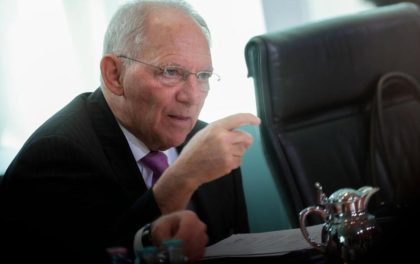 FRANKFURT, Germany (AP) — Germany's finance minister is denouncing trade protectionism ahead of a meeting with U.S. Treasury Secretary Steven Mnuchin and a summit where global finance officials are expected to tussle over how strongly to support free trade. Wolfgang Schaeuble said during a speech Thursday that «protectionism and nationalism are never the right answers.» He noted that countries are «more connected and dependent on each other than at any other point in history.»
G-20 for free trade
«We cannot turn back the clock and reverse globalization… but we can shape it,» he told a forum hosted by the Institute of International Finance. Schaeuble's meeting with Mnuchin comes after U.S. President Donald Trump's administration criticized Germany's trade surplus. Members of the Group of 20, a gathering of the world's most powerful economies, will debate whether to confirm their rejection of trade barriers when they meet Friday and Saturday in southern Germany. Last year's gathering of the G-20 finance ministers in Chengdu, China, issued a statement opposing «all forms of protectionism.» This time, early drafts of the finance ministers' statement have omitted such unequivocal language, which in the final version could be softened to refer to trade that is «open» and «fair,» without the absolute opposition to import restrictions to benefit domestic workers.
Trumps tougher approach
Trump has repeatedly emphasized that the U.S. needs a tougher approach to trade that would put American workers and companies first. He has already pulled the U.S. out of the proposed Trans-Pacific Partnership agreement with Japan and other Pacific Rim countries and he has started the process to renegotiate the North American Free Trade Agreement with Mexico and Canada, both of whom are G-20 members. His trade adviser Peter Navarro has accused Germany of benefiting from a weak euro that boosts its exports. Germany rejects the charge, saying it sells more abroad because its companies make competitive products and that it can't do much to influence the euro's exchange rate since eurozone monetary policy is set by the European Central Bank, reports Associated Press.