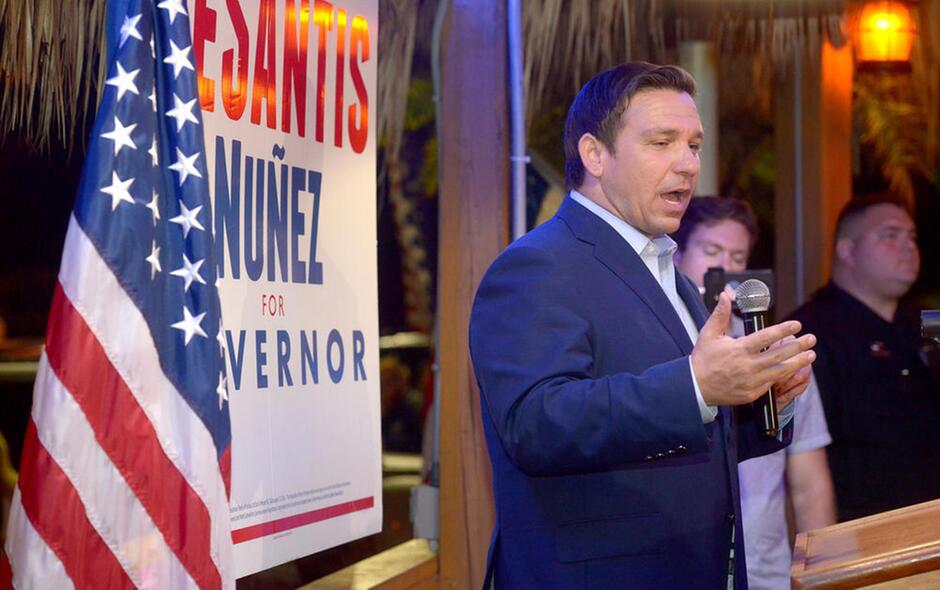 (AP Florida)In all, voters were choosing 36 governors and 6,089 state legislators in general and special elections that have attracted record amounts of spending from national Democratic and Republican groups. Republicans are in control more often than not in state capitols across the country, but Democrats were trying to pull a little closer in Tuesday's elections, reports Associated Press.
The political parties are trying not only to win now, but also to put themselves in strong position for the elections two years from now that will determine which party will have the upper hand in redrawing congressional and state legislative districts.
Democrats tried Tuesday to fight their way back to power in state capitols across the country by reclaiming governor's seats in several key states, marking significant steps in their nationwide strategy to reverse years of Republican gains in state capitols, reports Associated Press.
Florida Republican candidate for governor Ron DeSantis(photo) talks at AJ's Oyster Shanty on Okaloosa Island during his last campaign stop in Fort Walton Beach, Fla., Monday, Nov. 5, 2018. (Nick Tomecek/Northwest Florida Daily News via AP).
Still, their victories in Kansas, Illinois, Michigan, Maine and New Mexico were balanced by Republicans holding on to one of the top prizes, Florida, and the governor's offices in Ohio and Arizona. All three states will figure prominently in the presidential map in two years.
Other closely watched governors' races in Georgia and Wisconsin remained too close to call Tuesday night. In Michigan, Democrat Gretchen Whitmer defeated Republican Bill Schuette, upending years of Republican control in the state. The former legislative leader will become the second female governor in a state where Democrats heavily targeted other statewide and legislative offices.
Republican Gov. Bruce Rauner in Illinois lost his bid for a second term to Democrat J.B. Pritzker. The billionaire appears to have capitalized not only on Rauner's lack of popularity but broader dissatisfaction with President Donald Trump. In Kansas, Democratic state lawmaker Laura Kelly defeated Republican Secretary of State Kris Kobach, a close ally of Trump.
New Mexico also tipped into the Democratic column, with voters choosing Rep. Michelle Lujan Grisham to succeed two-term Republican Gov. Susana Martinez. The campaign had been defined by conflicts over struggling public schools and high poverty rates.
As of mid-October, the Democratic Governors Association and its affiliated entities had raised $122 million during the past two years — a record outdone only by the Republican Governors Association's new high mark of at least $156 million.
The Democratic Legislative Campaign Committee and Republican State Leadership Committee, which focus on state races, also set record fundraising targets. The National Democratic Redistricting Committee, led by former Obama administration Attorney General Eric Holder, has pumped additional money into state races viewed as critical in future redistricting decisions.
Although most state lawmakers responsible for redistricting will be elected in 2020, voters on Tuesday were electing more than 800 state lawmakers in about two dozen states to four-year terms where they could play a role in approving new congressional or state legislative districts.Follow David A. Lieb at: http://twitter.com/DavidALieb. For AP's complete coverage of the U.S. midterm elections: http://apne.ws/APPolitics